All of our buildings are built in the USA

American Steel Buildings provides a wide variety of carports, garages, barns and custom buildings. Our knowledgeable sales staff is ready to help you to choose the features you need – at a great value.

Please call today. (912) 294-2011

Our team is committed to providing top quality buildings at an outstanding value with excellence in customer service. Get metal custom buildings that exactly fit your needs with free shipping and setup! Our custom metal buildings can be made in any size or color scheme you'd like. Customize your building with Doors, Windows,and Roll up Garage doors. Certified and different style roofs.
* Colored Garage Doors Available for our customers everywhere but FL for an additional $100 per door!
Concrete Slab Installation
---
Your concrete should be poured as a monolithic slab. It should be a 4 inch thick slab with a 12 inch wide by 12 inch deep footer around the perimeter. The slab size will be the size of your building plus a 3&1/2 inch skirt around the perimeter that is 1&1/2 inches lower than the main slab. This adds strength because your building is not sitting on the outside edge of the slab. At the same time, the skirt being 1&1/2 inches lower, sheds any water away from the interior of your building.
EXAMPLE. A 30'x40' building will have an overall size of 30'7'' x 40'7" and the part of the slab that is 1&1/2 inches taller will be 30'x40' See example pictures.
Note. These are minimum requirements. Check your local codes for your area.

Foundation Recommendations
*FOR ILLUSTRATION PURPOSES ONLY . PLEASE REFER TO PERMITTING PLANS EMAILED TO YOU FOR FINAL FOUNDATION PLANS.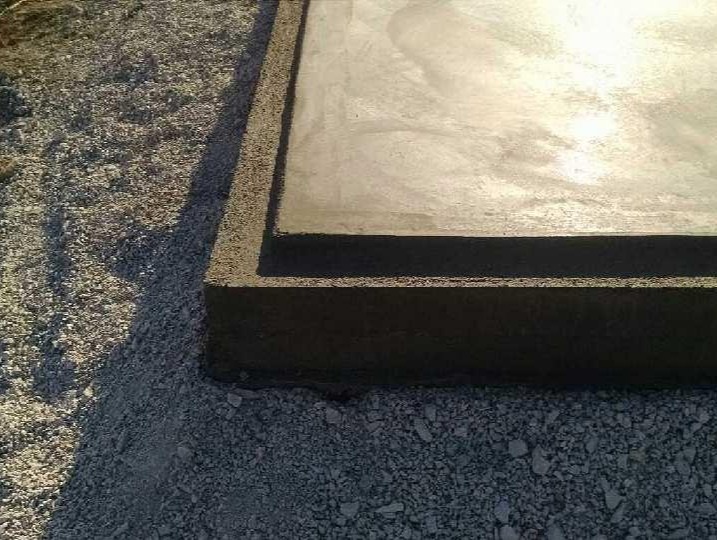 Anchor Edge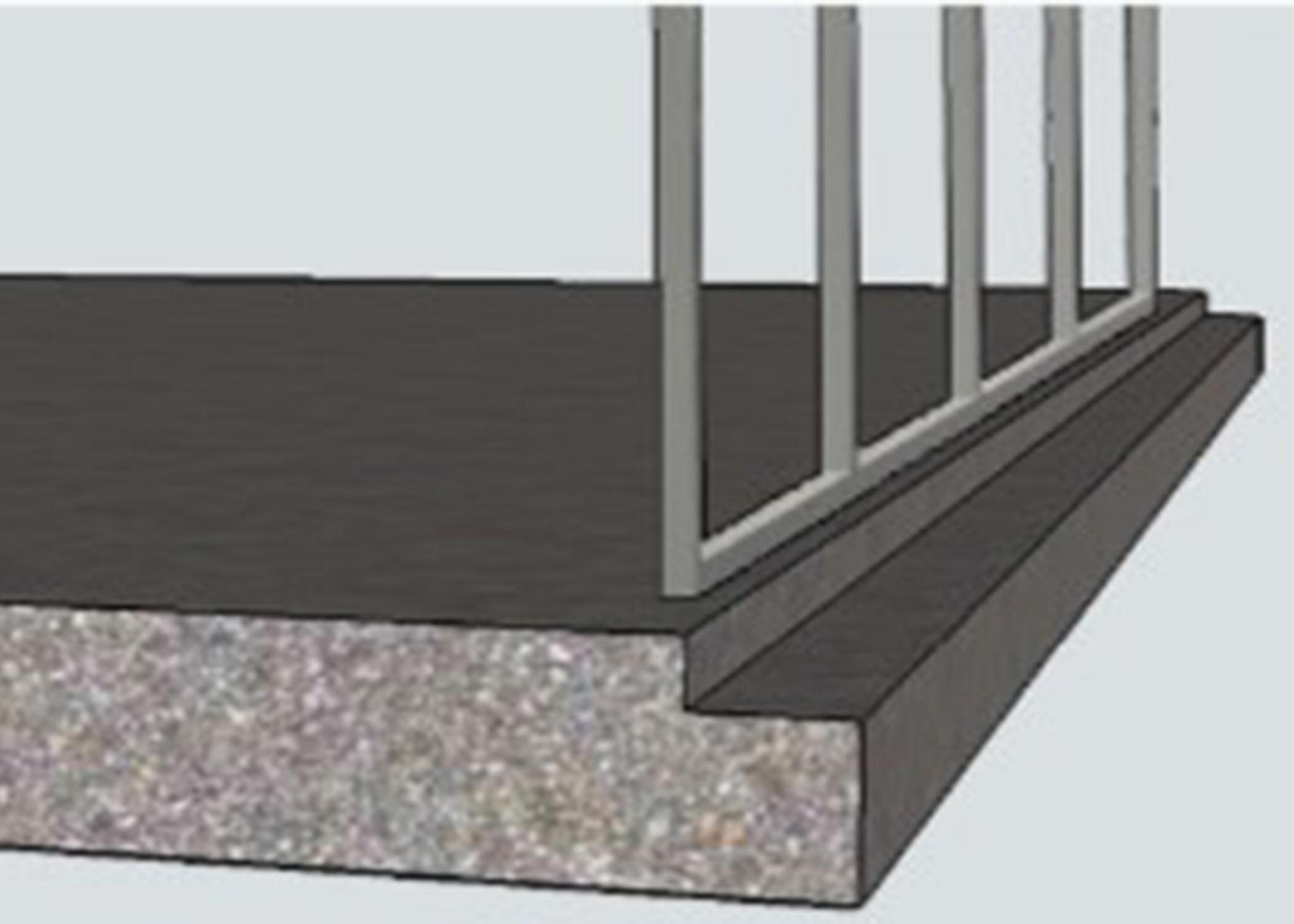 Base rail sits on top of main slab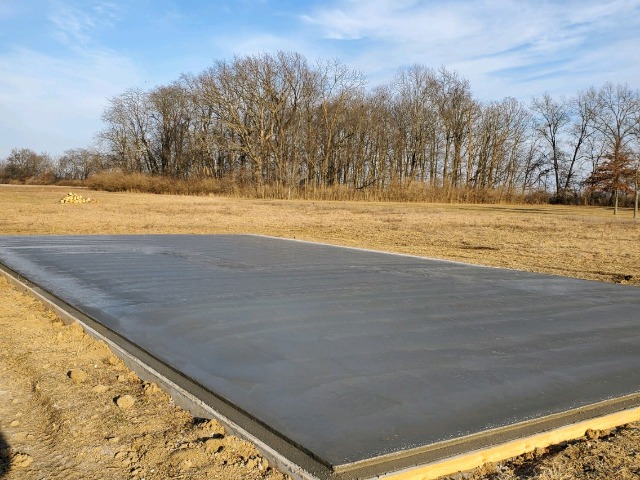 Slab Example w/ Anchor Edge
 Insulation Options
Insulation is available in two different thickness. Double Bubble Foil Back and An R17. Both are rolled out between the metal and frame at the Time of Installation. Whatever your needs are we can provide it.
R5 DOUBLE BUBBLE FOIL BACK : $1.80 PER SQUARE SURFACE FOOT
R17 WOVEN INSULATION: $3.60 PER SQUARE SURFACE FOOT

10 Most Commonly Asked Questions

How long will it take to get my building delivered after I place an order?
Delivery times vary depending on your area. To inquire about specific delivery times in your area, contact our office and speak with a customer service representative.

What are the dimensions of the building, outside to outside?
Our building measurements are width x length x height. For example: An 18' x 21' x 6' building's base frame size is 18' x 20' x 6'. Note that the measurements stated are the dimensions of the roof metal. It has a 6" overhang on each gabled end so the bottom base rail frame is one foot shorter than the roof. The width is measured from the outside of the baserail to to the other outside of the baserail.

What size do I need to pour my cement slab?
You should pour your cement exact to width and 1' shorter in length. Also drop at least an inch and add a 4 inch anchor edge around the slab.

What is the highest leg height available?
14' is the highest that is listed on our 12'-24' wide brochure. (Leg height over 14' requires approval.) 14' is the highest that is listed on our 26'-40' wide brochures. We do have taller legs. For more info call and talk to a sales associate.

Does my installation site need to be level?
To insure proper installation, your site must be level within 3" from corner to corner.


What types of anchors do you use?
We have three types of anchors:
32" rebar anchors - for ground/asphalt installation
Double helix mobile home anchors - for ground/asphalt installations that are certified. (Double helix mobile home anchors can be used on non-certified ground installations at an additional charge.)
Wedge anchors - for concrete installations

What is the widest building available?
We manufacture clear span buildings from 12' to 60' wide and other custom buildings up to 78' wide (barn style buildings).

If you have any additional questions, please give us a call. We are here to help.
Phone: (912) 294-2011
Email: feltoncburke@yahoo.com

Frequently Asked Questions
Anchoring
How is my carport anchored to the ground or dirt?
On non-certified units, 32" long rebar anchors are inserted through pre-drilled holes in the base rail. The anchors are driven into the ground with a sledgehammer for a secure hold. On certified units, double helix mobile home anchors are augured into ground and a bolt is inserted through pre-drilled holes in the side of the base-rail. The bolt is secured with a nut. Mobile home anchors are an optional upgrade for non-certified ground installations.

How is my carport anchored to my concrete slab?
Holes are drilled into your concrete slab. Wedge anchors are inserted through pre-drilled holes in the base rail of your unit into the holes in the concrete and fastened for a secure hold. This is why the 4" Anchor edge is crucial on your slab to prevent future foundation cracking

How is my unit anchored to asphalt?
On non-certified units, 32" long rebar anchors are inserted through pre-drilled holes in the base rail. A small hole is made in your asphalt and the anchor is driven into the ground with a sledgehammer into the asphalt. For certified units, mobile home anchors must be used.

How is my carport anchored to a wooden surface?
Lag bolts are inserted through pre-drilled holes in the carport base rails and screwed down into the wood surface for a secure hold. Extra Charges will apply.

Construction

Do I need to do any site preparation?
Remove anything out of the way that would impede the progress of the installation. Clearly mark the four corners of the building location and level the site if it is unlevel. Three foot clearance is required around the whole building site between other objects.

What is the roof pitch on my carport?
All styles are, approximately 3:12 roof pitch. We do offer a 4:12 roof pitch for an additional charge.

Can I have a unit installed on a wood floor or deck?
Yes. Additional fees may apply.



Ordering

What are the financial terms to purchase?
A down payment of 17% is made to the product representative to get your order started. Buildings under $15,000 balance is due after install of building. Over $15,000 half is due at time of scheduling and the other half after building is installed.

What are my payment options?
Visa, Mastercard, American Express, Discover, money order, debit, personal check or business check.

How do I place an order?
Please call (912) 294-2011 we will be happy to assist you.

General

Does the price for the building include installation?
As long as you are within our normal service area and your land is level, yes.

What roof styles do you offer and what are the features of each style?
We offer three roof styles:
Regular Style units have rounded corners and are considered the "basic" of carport designs. Acting as a founding product for all other designs, the regular style unit is typically the most economical and affordable product
Boxed Eave units are designed with an "A" frame roof truss and horizontal roof panels. This modern design has made this style unit one of the most popular available. An upgrade to Boxed Eave style is both stylish and affordable.
Vertical Roof units are designed with an "A" frame roof truss and vertical roof panels. Hat channel runs the length of the unit to cross brace the roof and provide a mounting point for the roof panels. This design helps to prevent weathering elements such as rain and snow from standing on your building. Vertical Roof units come standard with ridge cap and specially designed wider trim that gives the product a modern, finished appearance.

Can I order a custom sized unit?
Yes. For example you may need a unit that is 23' wide x 24' long. We will make it that size.

Do color choices add to the cost of my unit?
No, color choices are included in the cost. You may choose from any of our colors. You may choose one color for the roof, a different color for the trim, a different color for the sides and if a gable end is desired a different color for it, at no additional charge. You may also choose to make all of the colors the same on your unit.

Can I buy a carport or garage in a kit and assemble it myself?
Yes, units are available for drop-off only. All materials will be delivered to your location. No assembly instructions are provided. We highly recommend that you have your unit installed by the professional contactors.

What are certified buildings and why should I purchase one?
Certified buildings are engineered to meet a specific snow and/or wind load. Many areas, particularly in the northeast and along the coastal regions, require that the buildings meet a specific wind or snow load. You should be aware of your area's requirements and purchase a structure that meets the wind and/or snow load requirements for your area. We service a wide territory and since requirements can change from city to county, it is your responsibility to know the requirements and to purchase a structure accordingly.

Do I have to pay sales tax?
You must pay sales tax unless you can provide a copy of your sales tax exemption. Federal and state governments are tax exempt. Georgia GATE Card is no longer accepted for metal buildings.